This calculator can help you shrink bad debt, reduce cost to collect, and improve your patient payment experience today.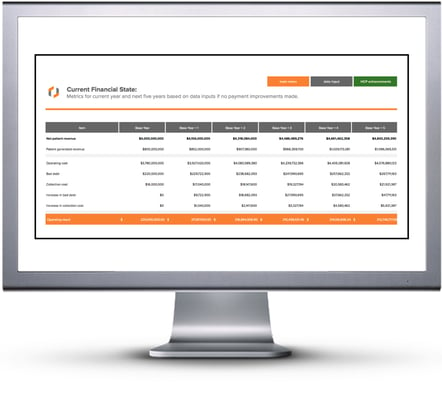 The Consumer Payment Optimization (CPO) Calculator will help you:
Discover potential enhancements in your healthcare consumer payments practices


Calculate financial benefits for a variety of patient payment solutions



Analyze the impact of improvements on future financial metrics




---
about this cpo calculator tool and how to use it:
Infoedge conducted a nationwide survey of 1810 patients on their payment experiences and preferences with their hospital providers. We used this information to build a Consumer Payment Optimization (CPO) simulation tool for our hospital clients.
Plug in your:
1. net patient revenue
2. patient responsibility percentage
3. net operating profit margin
4. bad debt to net patient revenue ratio
5. total patient encounters
Once plugged into the calculator you can examine how flexible payment plans, bill consolidation, electronic communications, and other enhancements can improve your payments strategy.
Need more information on how you can use the tool?

Please watch our CPO calculator video tutorial >
---
Read more about what infoedge is doing in the healthcare industry.